Protect Your Bike and Fight Bike Crime. Get your bike registered for free at Bike Revolution
There are 500,000 bikes stolen a year in the UK, a shocking statistic. Anything you can do to prevent yourself becoming a vicitm is worthwhile so we are always on the lookout for new products, services and advice.
I recently met the owners of the new company 'Bike Revolution' and was very impressed by their product.  Here's their summary: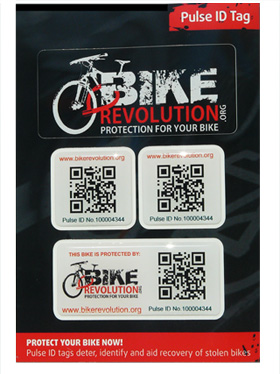 Bike Revolution is a free online bicycle registration service. It offers free registration, access to the Stolen Bike Database and Stolen Bike Alerts. You can also purchase a Pulse ID tag, which allows your bike to be scanned by anybody with a smartphone.  
Once you register you will be given a Certificate of Registration, complete with all our bike details. Bike Revolution's mission is to reduce bike-related crime by 90% within 5 years. 
For more information go to www.bikerevolution.org
 I have registered my bike on the database, and fixed the Pulse ID tags  to my bike. Three very striking stickers that will act as a visual deterrent to any thief and encourage them to go elsewhere.
DISCOUNT! I am able to buy the Pulse ID tags at a price of £6.95, a significant saving on the normal price of £9.95. Contact me if you would like one and I'll make a bulk purchase in the middle of July.
Let's beat the thief!