We have 3 services designed to give people the confidence and knowledge to purchase a bike and accessories, and to cycle successfully.
Please contact us if you are interested in booking or have questions.
Lessons
All our instructors have been trained to National Standards level of 'Bikeability'. This is the modern equivalent of 'Cycling Proficiency', and means you will be trained to a standard consistent across the whole country.
There are 3 levels of skills to progress through. Children would start with levels 1 & 2, progressing from the playground or park to cycle on less busy local roads. Teenager and adult beginners can also learn levels 1 & 2 in an off road and quiet environment.
Confident teenagers and adults can broaden their skills by learning level 3, incorporating multi lane roads and larger roundabouts. We provide both a complete package of lessons for the beginner or individual lessons tailored to the client. It may be you can ride a bike but don't feel confident about right turns on multi lane roads. Whatever the need we can address and practice until perfect!
Everyone can be taught to ride a bike!
We train both adults and children.
We cover London Zones 1 & 2
The cost is £30 per hour.
Guided Ride
We know that riding on the roads in London can be scary, and if you have to navigate as well it can become a real hard task!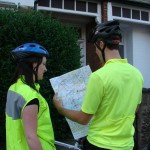 The Guided Ride service takes all the stress out of it for you by providing the following:
Route planned in advance to suit your skill level. Route map provided to you.
Cycle and equipment checked. We will teach you a simple method to check basic roadworthiness of your bike that you can perform on a weekly basis.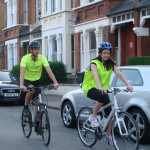 Route discussed and focus given to any areas requiring special attention.
Cycle together with the instructor close behind. Here the traffic can be controlled by the instructor and rider observed. Occasionally stopping to discuss events.
We currently cover London  Zones 1 & 2. Please contact us if your requirements are outside of these areas.
Cost £30
Buying Assistance
Buying a bike can be an intimidating and confusing experience. Where to go, what to get, how much to spend? The Bike Buying service provides you with a personal expert to talk you through everything at your own pace. By asking you some simple questions we will be able to understand the requirements and select the best bike at the best price from the world's supply of shops! We are not tied to any cycle shop, ensuring that the perfect choice is made.
The service includes the following steps:
Requirements – worked out with you via a simple set of questions.
Research done – We will contact your local bike shops and discuss what they have in the required type of bike.
Buy! – Then a trip together to the most suitable bike shop(s)! Check out all bikes fitting your requirements. Hopefully purchase a bike, but if nothing takes your fancy we'll try the next best shop on the list. If nothing there then hopefully you have learnt enough and gained confidence to try more shops in your own time.  If not another session can be booked.
Accessories – If you do buy a bike then we'll also buy the essential accessories, and any others that you require. If the shop doesn't have something to your taste, such as a jacket or cycling top, then we also maintain an extensive list of internet sites with all the latest fashions that you can peruse at your leisure.
Service Plan – Bikes need to be maintained, so we'll discuss the service plans available. You'll be able to drop off your bike at a service centre and have it checked over on a regular basis to ensure it's always running smoothly.
Insurance – We'll explain some of the options for your bike insurance. It's essential you're covered if you fall victim to crime.
BikeRevolution – Register your bike with this free online service and receive access to stolen bikes database. Additionally purchase a Pulse ID tag that acts a visual deterrent to thieves.
Basic bike check – We'll teach you how to perform a simple bike check to ensure it's roadworthy. You can then do this yourself at any time to ensure you're cycling on a safe bicycle.
Cost £50