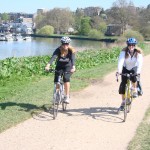 Thursday, July 29, 2010
6:30pm – 9:00pm
Clapham Junction to Richmond Park and back
A girls only ride (well apart from me!) starting at Clapham Junction and and heading over for a lap of Richmond Park. Join us anywhere on route. We'll get to the Priory Lane entrance to the Park just after 7pm.
We'll take it nice and slow and I will be on hand to offer advice with your bike, gears, anything you care to mention!
Let me know if you're coming. Depending on the crowd and home locations we could stop for a drink somewhere at the end.