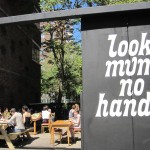 Monday, July 19
6:00pm – 8:00pm
Look Mum No Hands – cycle cafe
49 Old Street
Come for an evening of tasty grub and Tour action!
Check out this new trendy cyclist's cafe, serving great food and drink and showing the highlights from the day's cycling. I'll be there from 6pm to sample their wares and get a good seat.
You don't need to be into the Tour, or even like food! Just come along for a drink and say hi.
Here's the stage details for the that day:
stage 15 – Pamiers  Bagnères-de-Luchon 187.5 km
High Mountains – A sporting perspective
Left by the wayside?
It is a sure thing that some riders will lose Le Tour because they are not sufficiently skilled at descending. From the Port de Balès to Bagnères-de-Luchon, the bends are extremely delicate. What's more, the foot of the Peyresourde slopes are only three kilometres from the finishing line, meaning there is no way of clawing back any ground lost. To date, the Port de Balès has only been climbed once by Le Tour, in 2007. Beforehand, there was not even any tarmac. It was specially laid for cycling races. This pass is magnificent, hard and not very wide. Once the riders reach the top, a good downhill rider can open up the gaps, for example Samuel Sánchez, because it really is a very technical descent. More importantly, there may well be a lot of riders left by the wayside.