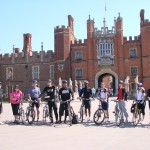 You can see so much more on a bike can't you? On our tours you'll be gliding past famous sites, beaches, countryside; it's shame to have to go back to work!
Just decide how long you've got, how far you want to travel, what you fancy seeing, and we'll do EVERYTHING else. You just need to turn up and have fun.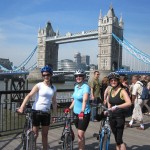 Tours are fully guided by a qualified cycling instructor. They will ensure your safety and even provide tips on safe cycling if required.
We run tours with a maximum of 10 people to enable us to safely manage the group. When you book you'll be joining up with other people who have booked on that day. If you would like a day exclusively for your group please contact us.
Children are welcome but need to be over 14 years of age to cycle themselves.
All our tours are manageable by the majority of people. You don't need thighs like Sir Chris Hoy, more a taste for a jaunt, a chat, and maybe ice-cream!
If you don't have a bike, no problem. We meet up and depart close to a bike hire place for your convenience.
If you would like us to create a bespoke tour for your work, social group, club etc  just let us know your requirements and we'll discuss.
Mind The Gap Tours – For shorter distance tours combining travel, attraction entrance and bike hire costs. Use discount code DELIGHT10 when booking for a 10% discount. Click here.